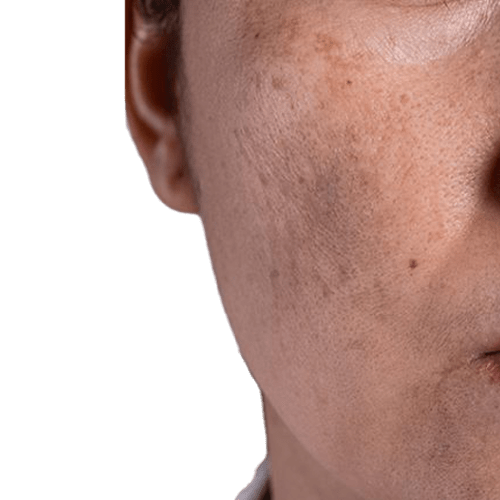 Melasma is chronic and relapsing hyperpigmentation in the face, that occurs mainly in patients with dark skin. Melasma occurs most commonly between the ages of 20 and 30, in patients from South America, North and sub-Saharan Africa, the Middle East and Asia.
OUR SOLUTIONS
HOW TO TREAT YOUR MELASMA?
Here is a non-exhaustive list of available treatments against melasma. It is important to understand the melasma is a chronic and relapsing condition for which there is currently no cure:
Strict broad-spectrum sun protection with SPF 50 cream.
Creams containing hydroquinone (gold standard) as well as tranexamic acid, retinoids, azaleic acid, kojic acid and many others.
Oral tranexamic acid has been shown, in recent studies, to be efficient in treating melasma.
The causes of melasma are multiple: genetic factors, hormones, visible light, ultraviolet rays. There are different available treatments for melasma which requires a multimodal approach with a focus on skin lightening and improving the vascular component.
Care should be taken with laser treatments and chemical peels which can produce good results initially but can lead to post inflammatory hyperpigmentation (PIH) that exacerbates melasma, especially in darker skin types who constitute the majority of patients suffering from melasma. A medical consultation is necessary in order to decide on the best treatment.