ELIMINATE STUBBORN FAT WITH COOLSCULPTING
Are you tired of your double chin, love handles, and tummy fat? Looking for a safe and minimally invasive treatment that destroys fat cells for good? CoolSculpting is an effective solution to get rid of stubborn fat.
The innovative CoolSculpting by cryolipolysis technique uses freezing to cool and break down fatty tissues. It is a safer and more beneficial alternative to liposuction and other invasive surgical procedures as it only destroys fat deposits and does not harm the surrounding muscles, nerves, skin, and other body cells. 
CoolSculpting
WHAT CAN WE TREAT?
The latest generation CoolSculpting is an advanced non-surgical alternative to fat reduction. The treatment was developed at the prestigious University of Harvard in 2009. It can help treat:
Stomach/ belly fat

T

he sides (love handles)

The saddlebags

The inner thighs

The area below the bra (bra bulge)

The area above the knees

The double chin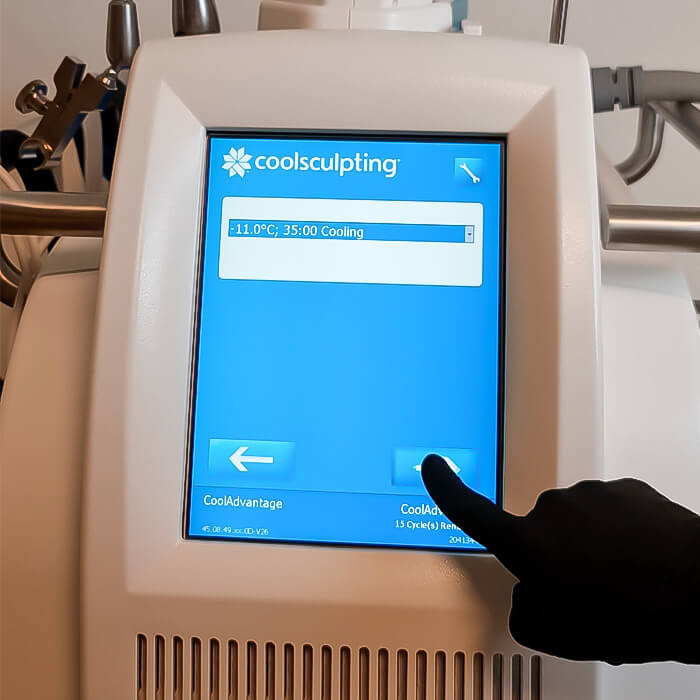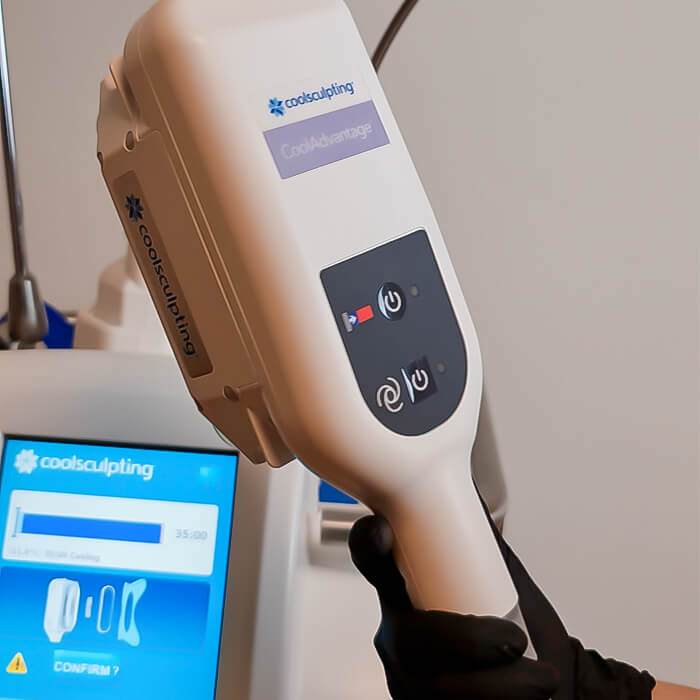 COOLSCULPTING
WHAT YOU NEED TO KNOW
TREATMENT DESCRIPTION
Coolsculpting is the only non-invasive technique that can selectively eliminate body fat without burning the skin. An evaluation is necessary before treatment with Coolsculpting. During a one-on-one consultation, our Aesthetic Experts will establish with you a personalized treatment plan based on your needs and their medical evaluation.
Watch the video below to find out how the procedure works:
Essential information about CoolSculpting
ANESTHESIA
Since it is a non-invasive treatment, anaesthesia is not necessary.
TREATMENT DURATION
The average cryolipolysis session lasts 35 minutes per treated area, and 1 hour and 10 minutes for each hip area in case a CoolSmooth treatment is required.
NUMBER OF SESSIONS
Usually, a single session treatment per area is necessary (however, several areas must be treated to obtain the desired result for one region of the body. For example, the belly requires a treatment of 2 to 4 areas, depending on fat distribution).
SIDE EFFECTS
Like any medical procedure, CoolSculpting can cause side effects that vary from person to person.
Normal side effects:
Transient skin anesthesia

Slight edema and redness

Mild pain is possible after the treatment
RESULTS
CoolSculpting, is an efficient and safe alternative for liposuction and a cutting-edge non-invasive procedure to eliminate localized fat and adipose tissues. The final result appears 2-3 months after the procedure.
COST
Fat freezing by CoolSculpting price starts from CHF 600.- per area.
WHY CHOOSE THE AESTHETIC MEDICINE CLINIC FOR YOUR TREATMENT?
At our Aesthetic Clinic, we have a team of highly trained and experienced Aesthetic Experts who can help you eliminate unwanted fat cells and reach your beauty goals in a safe and non-invasive way. Every patient has a one-on-one consultation session with one of our Aesthetic doctors, who will provide all the information about the cryolipolysis process and form a personalised CoolSculpting treatment plan that is based on the patient's body goals, lifestyle, and more. 
View the testimonial!
BOOK YOUR COOLSCULPTING TREATMENT !