ULTHERAPY®
WHAT CAN WE TREAT?
Ultherapy, not surgery.
Only Ultherapy is authorised by the FDA to non-invasively lift the skin of the neck, chin and eyebrows, and to improve wrinkles and fine lines on the décolleté.
For those who are not ready for a surgical lift, Ultherapy provides proven results in a single treatment for most patients.
Learn how to treat your sagging skin without surgery, without impacting the surface of your skin and without downtime.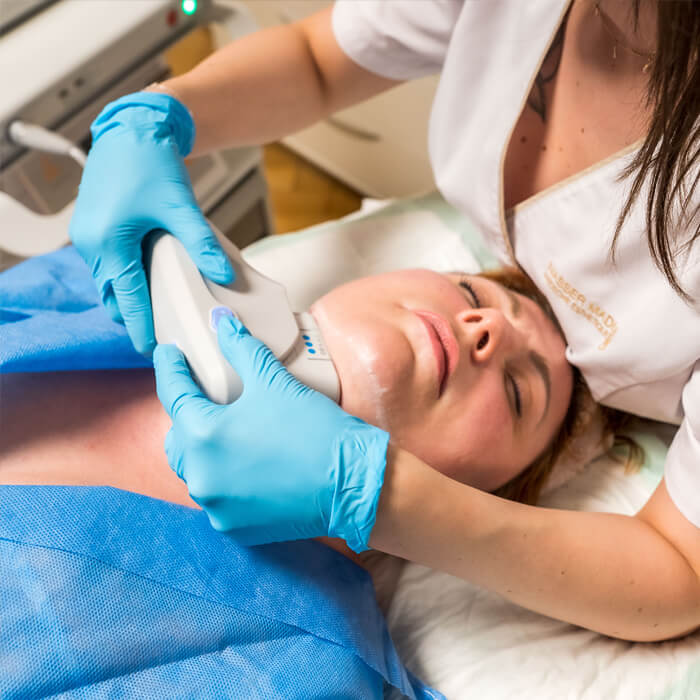 ULTHERAPY®
WHAT YOU NEED TO KNOW
Ultrasound therapy is used to go further than other non-invasive treatments for the stimulation of collagen.
It also relies on traditional ultrasound imaging so that ulcer therapists can see the layers of tissue they are treating.
The microfocalised ultrasound facelift with visualisation (MFU-V), allows you to visualise the areas to be treated (1.5, 3 and 4.5 mm) according to your skin. Indeed, the depth of the areas that are targeted by the treatment vary according to the thickness of the skin and the weight of the patient.
The treatment, which allows you to visualise the areas to be targeted by ultrasound, is therefore personalised and will reach the areas where it will be necessary to stimulate collagen and elastin, thus producing the best possible result.
It is a safe and effective treatment that can be combined with injections of diluted Radiesse®, which also stimulates the production of collagen and elastin.
ULTHERAPY® PRICE PER TREATMENT AREA
Whether Ultherapy is a good treatment for you depends on what you want to have treated and how far along that area is in the aging process. If you're still in the early signs of the aging process or have just started to notice a bit of droop and sag, Ultherapy might be ideal. It can also be the right treatment for you if you have some wrinkles on the upper chest.
Click on the image to see the prices >
ULTHERAPY®
Ultherapy is a non-invasive medical treatment using microfocused ultrasound with visualization (MFU-V), which stimulates the production of collagen and elastin in the deep layers of your skin.
The energy delivered by the ultrasounds from the inside to the outside allows the energy to pass through the surface of the skin without damaging it.
Microfocused ultrasounds can reach a depth of 4.5 mm (much more than lasers and radio frequency) which will smooth the skin and lift it; this is the same depth that is aimed at during a surgical facelift.