Ultherapy is a non-invasive, FDA-approved treatment for skin laxity. It uses microfocused ultrasound energy to target the deeper layers of the skin and stimulate collagen production, resulting in firmer, tighter, and more youthful-looking skin. The treatment is particularly effective for treating skin laxity in areas such as the neck, chin, brow, and décolletage. It can also be used to improve the appearance of fine lines and wrinkles on the face and neck.
OUR SOLUTIONS
MICROFOCUSED ULTRASOUND FACELIFT WITH VISUALIZATION
The microfocused ultrasound facelift with visualization (MFU-V) is one of the most advanced non-invasive treatments on the market. MFU-V allows visualization of the areas to be treated (1.5, 3, and 4.5 mm) according to individual skin thickness. The depth of the targeted areas varies based on the thickness of the skin and the patient's weight. This personalized approach ensures ultrasound energy is delivered precisely where needed, stimulating elastin and collagen generation for the best results. MFU-V is a safe and effective treatment that can be combined with injections of diluted Radiesse®, which also stimulates collagen and elastin production.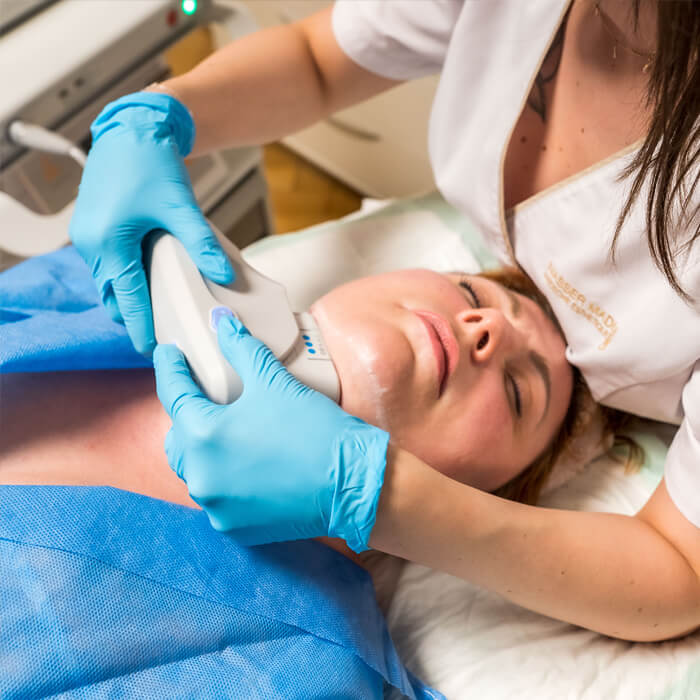 ULTHERAPY®
WHAT YOU NEED TO KNOW
HOW TO LIFT AND FIRM THE SKIN WITHOUT SURGERY?
Ultherapy is a non-invasive aesthetic treatment that harness the power of microfocused ultrasound technology with visualization (MFU-V), which stimulates the production of collagen and elastin in the deep layers of your skin.
The energy delivered passes through the surface of the skin without damaging it. Micro focused ultrasounds can reach a depth of 4.5 mm (much more than lasers and radiofrequency) which will smooth the skin and lift it; this is the same depth that is aimed at during a surgical facelift.
Patients may see some immediate results after their Ultherapy treatment, but the full results usually take a few months to appear. Collagen and elastin production is stimulated by the ultrasound energy, which gradually lifts and tightens the skin. It can take anywhere from 2-6 months to see the full effects of the treatment, as the collagen continues to build and lift over time. The results can last for up to 1 year or more, depending on the patient's skin condition and how well they take care of their skin after the treatment.
ULTHERAPY
TREATMENT PRICE
Starts from CHF 1'000. 
See the image below for the price per treatment area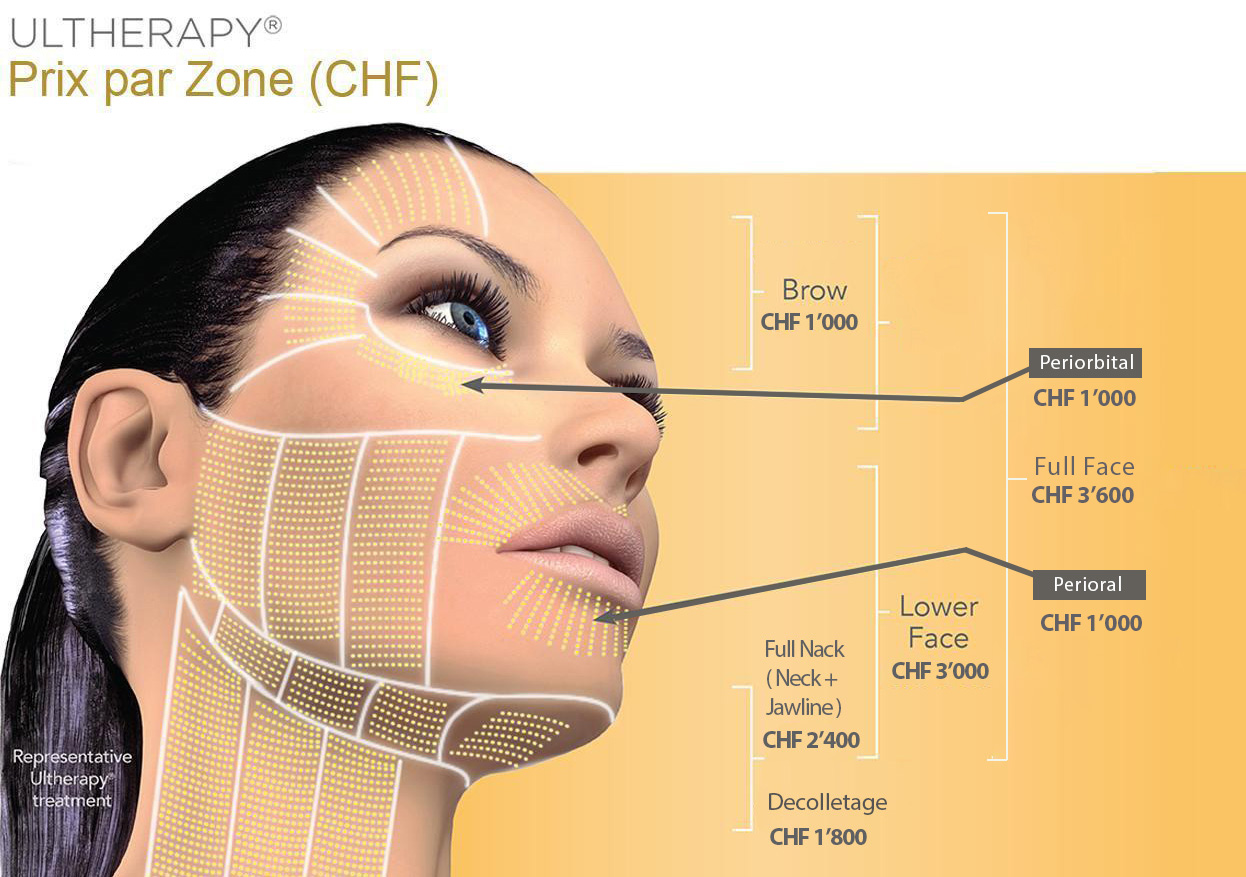 HOW TO KNOW IF THE ULTHERAPY TREATMENT EFFECTIVE FOR YOU?
If you are considering Ultherapy treatment, it is recommended that you schedule a consultation with one of our experienced Aesthetic Doctors. During the consultation, the Doctor will assess your skin and discuss your aesthetic goals to determine if Ultherapy is the right treatment for you.
Generally, Ultherapy is ideal for individuals who are experiencing early signs of aging, such as mild to moderate skin laxity or wrinkles. It is also effective for improving the appearance of sagging skin on the face, neck, and chest. However, if you have more advanced signs of aging, such as severe sagging or deep wrinkles, other treatments may be more appropriate.
It is important to have realistic expectations about the results of Ultherapy and to understand that multiple treatments may be needed to achieve your desired outcome. 
WHY THE AESTHETIC MEDICINE CLINIC FOR YOUR ULTHERAPY TREATMENT?
Our Swiss Aesthetic Medicine Clinic, located in the heart of Geneva, is a reference and teaching center for Ultherapy treatment, in Switzerland. Our philosophy is centered around providing personalized care to meet each client's unique needs and ensure complete satisfaction. Our team of Aesthetic Doctors will attentively listen to your concerns and work with you to achieve your desired outcome.
FREQUENTLY ASKED QUESTIONS
WHAT CAN BE TREATED?
Lifting eyebrows, sagging skin on the face, neck, décolleté and other parts of the body such as the arms, abdomen, thighs and buttocks. 
TREATMENT DESCRIPTION
A gel is applied to the skin, and a handpiece called a transducer is placed on the area to be treated and moved to deliver ultrasound "lines" according to the protocol established for your treatment.
PAIN
Not very important on the body and face, a little more important on the neck.
ANALGESIA AND ANESTHESIA
We ask you to take painkillers 1 hour before the session and we will apply an numbing cream 30 minutes before the treatment.
TREATMENT DURATION
30 to 90 minutes depending on the treated area is typically required.
NUMBER OF SESSIONS
Only 1 session per treated area.
Get your Ultherapy Consultation with our Aesthetic Doctors!