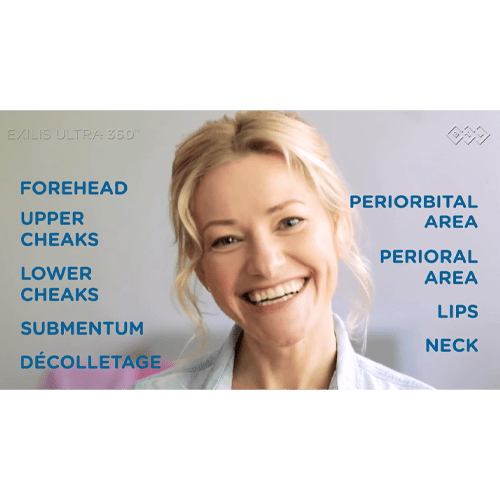 BTL EXILIS 360°
WHAT YOU NEED TO KNOW
TREATMENT DESCRIPTION
The BTL Exilis 360°, combining monopolar radio frequency (RF) technology and ultrasound, offers great treatment versatility with its 2 handpieces. One handpiece is intended for the treatment of skin laxity (periorbital, face, neck, arms and forearms, knees). The other handpiece treats excess localized fat (abdomen, hips, thighs) as well as skin laxity.
The treatment is suitable for patients of all ages and skin types.
The only contraindications to treatment are wearing a pacemaker and pregnancy.
TREATMENT DURATION
Between 20 minutes and 1 hour depending on the treatment.
NUMBER OF SESSIONS
We recommend completing 2 to 4 sessions, with a variable duration of 4 to 15 minutes depending on the treated area, at a rate of one session every 7 to 14 days.
SIDE EFFECTS
Patients may feel some heat during the session, but it's rarely uncomfortable. When the patient feels uncomfortable heat at a particular spot, we modify the settings and/or cooling and the sensation is mitigated.
RESULTS
Results with the Exilis 360° are quick and may be visible after 1 session.
BTL EXILIS 360°
The first and only device simultaneously combining radiofrequencies and ultrasound to tighten the skin and target body imperfections.