Fotona 3D & 4D
WHAT CAN WE TREAT?
With the expanded capabilities of the Nd-YAG and Er-YAG wavelengths, the SP Dynamis Pro laser offers up to four treatment dimensions. The Fotona 4D facelift therefore refers to the following 4 modalities to act on the deeper, median and superficial connective structures of the skin, while targeting different skin imperfections at the same time.
The aim of this non-invasive treatment is therefore to combat sagging skin and improve its elasticity.
This treatment can be part of a preventive (between the age of 28 and 35 years) or therapeutic approach, from 35 years old onward, as a complement or alternative (for those who wish) to hyaluronic acid injections.
Fotona's complementary Er-YAG and Nd-YAG wavelengths are applied synergistically in 4 different modes: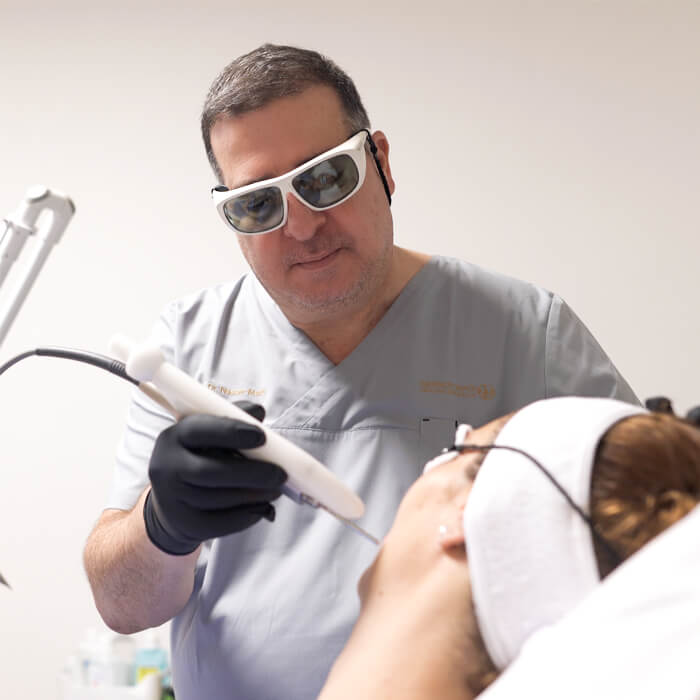 SMOOTHLIFTIN®: Intraoral stimulation (inside the mouth) by heat inducing collagen production and decreased sagging and improved elasticity.
FRAC3®: heat peaks delivered fractionally by the Nd-YAG laser into the deep skin layers of your face
PIANO®: heat is delivered slowly over the entire thickness of the subcutaneous tissue of your face by this unique mode, to stimulate the remodeling of your skin.
SupErficial®: a controlled, heat-free laser peel delivered by the Erbium-YAG laser. This step can be omitted if the treatment is carried out during the summer. It will then be called Fotona 3D lift (3 steps)
The advantages of this revolutionary technologically advances and efficient treatment, is that it is non-invasive, painless, with no downtime and can be performed all year-round.
Fotona 3D & 4D
WHAT YOU NEED TO KNOW
TREATMENT DESCRIPTION
Firming and lifting treatment for the face combining Erbium-YAG and Nd-YAG lasers from Fotona.
NUMBER OF SESSIONS
3 to 4 sessions according to your skin's need, spaced about 4 weeks apart, are necessary to obtain an appreciable and long-lasting result.
SIDE EFFECTS
Slight redness can last up to 48 hours.
RESULTS
The results are visible after 6 to 8 weeks after the treatment.
FOTONA 3D & 4D
Discover Valentina's opinion on her Fotona 4D experience. Want to know more or make an appointment?  My team and I are happy to help you…