PROFHILO® Treatment In geneva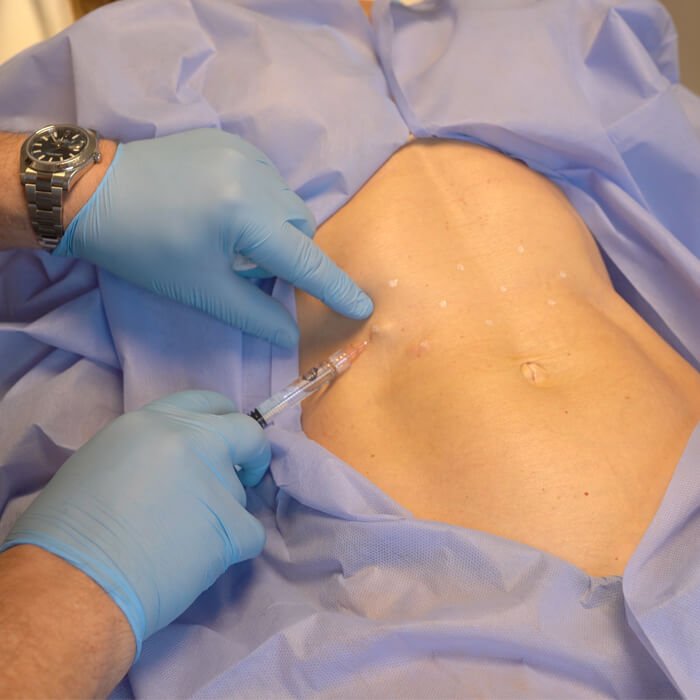 PROFHILO 
INJECTIONS FOR AN

UNRIVALLED GLOW
Profhilo is a new highly concentrated injectable treatment of hyaluronic acid that gives the face, neck, décolletage and hands the elastin and collagen stimulation needed to hydrate and reshape the skin while firming it with a "lifting effect". The Profhilo treatment is also known as bio-remodelling, because it works by remodelling the multi-layer skin tissues from the inside out.
Improve your skin's texture, hydration levels, and appearance with Profhilo at the Aesthetic Medicine Clinic in the heart of Geneva! 
Is The Profhilo
Treatment
Recommended For You?
This injectable Hyaluronic Acid treatment is one of the best aesthetics treatments for the prevention of fine lines, wrinkles, and volume loss. A biostimulator, not a dermal filler, that works on 4 types of collagen and elastin production.  This type of injection is also used to rejuvenate the skin and is suitable for people in all ages.
Profhilo improves skin quality, stimulates the dermal tissue repair process and  reduces  skin laxity. An effective treatment for:
Reducing signs of skin aging such as fine lines
Provides luminous skin for face and neck's loss of radiance
Deep skin hydration to boost your skin health
Overall tissue improvement and a healthier complexion
Have questions? Contact our Aesthetic Experts
Frequently Asked Questions:
What are Profhilo treatment areas?
Profhilo injections are used for the face, neck, décolletage, and hands. Also, for areas difficult to treat with other injectable solutions, such as the forehead, temples, cheeks, jowls and the area around the mouth. It also helps firm loose skin in the upper arms. 
What You Need To Know?
No anaesthesia is needed
Profhilo injections have no contradiction with the application of skincare products
As side effects, the treatment might cause slight swelling and minor bruising at the injection site for a few days after treatment, which subsides quickly
Results: While there can be an instant improvement after the first treatment, it takes around 4-8 weeks after the treatment for the best results to be seen.

A maintenance session between 9- 12 months is recommended to maintain the rejuvenating effects.
Can Profhilo be used under the eyes?
Profhilo under the eye is one of the most demanded non-surgical aesthetic treatments. It has remarkable effects on smoothing the eye area, reducing eye wrinkles (such as crow's feet wrinkles), and correcting smokers' lines with the least downtime compared to other under-eye laser treatments. 
Can Profhilo be used together with Botox and other treatments?
Pofhilo can be used alongside many other aesthetic treatments, as it further enhances the rejuvenating effects. For some people, a combination of both botulinum toxin (ex. Botox) and Profhilo provides them with the optimal results they need. While botulinum toxin combats wrinkles caused by specific muscles, Profhilo revives the overall radiance and glow of the skin.
Will Profhilo get rid of wrinkles completely?
Profhilo has a dramatic effect on reducing, or sometimes fading away of fine lines and wrinkles. The skin is firm, tight and glowing, thanks to the deep hydration the treatment provides. 
What is the price of a Profhilo Treatment?
The price per a treatment session is CHF 450 for the face and CHF 600 for the body. 
Why choose the Aesthetic Medicine Clinic for your Profhilo Treatment?
At the Aesthetic Medicine Clinic, we offer expert and tailor-made Profhilo dermal filler injections with world-class results.
Our experienced Doctors, Dr. Nasser Madi and Dr. Diana Cerruti, perform personalized aesthetic medicine treatments using state-of-the-art techniques to ensure natural and beautiful results. The Aesthetic Medicine Clinic prioritizes patient safety and comfort, and every procedure is tailored to the individual's skin type and beauty goals, which are assessed and planned during a comprehensive consultation prior to treatment.
Get your Profihlo
 

Treatment!