Morpheus 8 is a cutting-edge, non-surgical fractional radiofrequency with micro-needling for the non-invasive remodeling and tightening of the skin as well as treatment of lines, wrinkles, and scars. Using this technology, Morpheus 8 is able to penetrate into deeper layers of the skin than other similar treatments and boost collagen renewal. As a result, your skin will be tightened lifted with an improved overall appearance.
 Morpheus 8
HOW DOES MORPHEUS 8 WORK?
Morpheus 8 is one of the most sought-after tissue remodeling devices recent years. It is a device that delivers fractional radiofrequency with micro-needling for the non-invasive tightening of the skin as well as treatment of lines, wrinkles, and scars. The treatment involves tiny gold needles penetrating the skin that delivers heat to the tissue at selected depths to stimulate the collagen production.
What makes Morpheus 8 a unique treatment modality, is that the fractional technology, using gold micro-needles, allows heat to be delivered to selected depths (1 to 4 mm in the face and up to 8 mm in the body) thus stimulating collagen production that will lead to skin tightening, and overall improvement of your skin's appearance.
Clients start to see the results of the treatment within 6-8 weeks. However for optimal results, we recommend a treatment protocol including 3 treatments sessions with a 4-week interval.
Morpheus 8
Why You Should Get Morpheus 8 Skin Treatment at the Aesthetic Clinic?
At Aesthetic Medicine Clinic, we are committed to taking the best care of our clients by providing you with optimal aesthetic solutions. When visiting the Aesthetic Medicine Clinic, you will receive a one-on-one initial consultation with one of our Aesthetic Doctors, giving you a chance to express your concerns and your aesthetic goals. Our doctors will then tailor-make a personalized Morpheus 8 treatment plan that will improve your skin quality.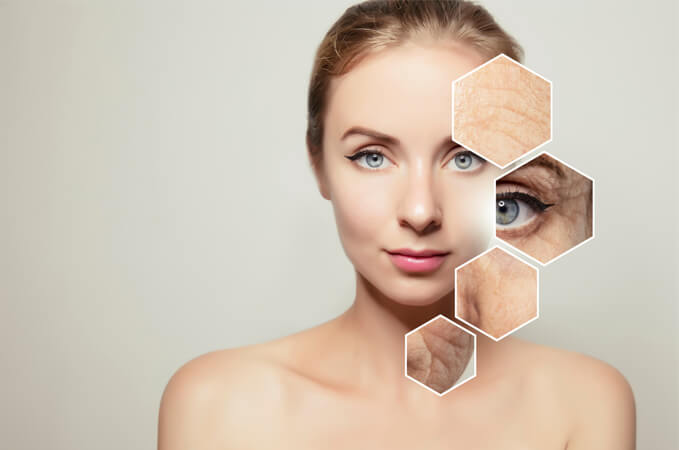 Morpheus 8 Skin Tightening Cost
At Aesthetic Medicine Clinic, we want all our clients to be able to access the top-quality aesthetic treatments. Our clients can benefit from Morpheus 8 for a cost-effective price.
Morpheus 8 skin tightening cost is CHF 1'000.- CHF per area (A package for 3 sessions at CHF 2'400.- is also available).
What You Need to Know About Morpheus 8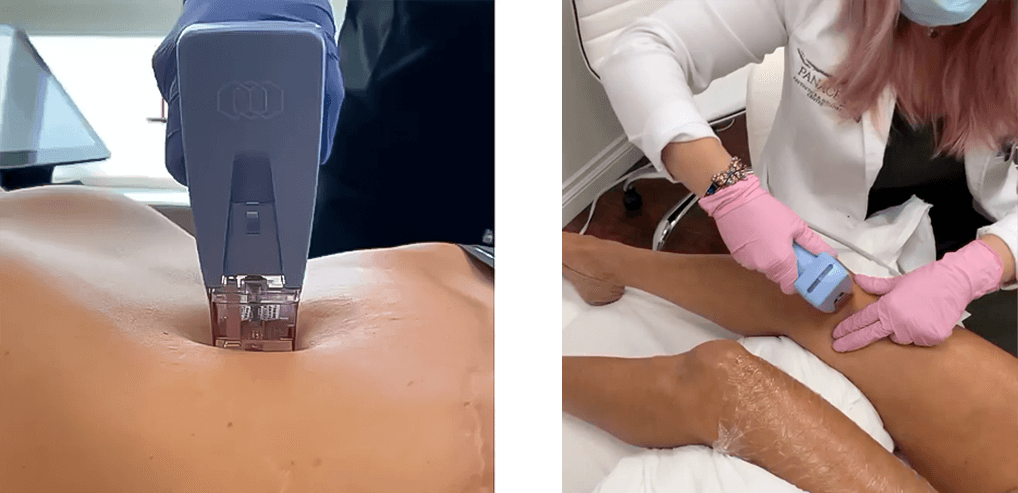 Patients of all ages and skin types can benefit from Morpheus 8. The technology can help reduce facial and body scars, improve skin texture, including dilated pores, reduce or eliminate acne scars and stretch marks, restructure your face to reduce the appearance of jowls and facial sagging, reduce fine lines and wrinkles, and repair sun damage.
However, keep in mind that everyone has a different type of skin, so we will create a different treatment plan for each one of our clients.
Morpheus 8 is a safe non-surgical and non-invasive treatment. Following the procedure, you might experience slight redness and swelling and, in some cases, minor bruising. Slight needle marks may last up to 7-10 days.
You may wear your makeup and get back to your normal routine activities within a few days following the treatment. 
During the pre-treatment consultation, our Aesthetic Doctors will provide you with the pre- and post-procedure instructions.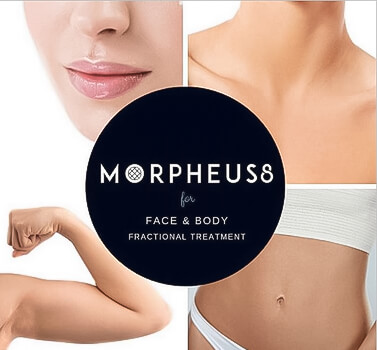 Morpheus 8
Frequently Asked Questions
Is Morpheus 8 a painful treatment?
Morpheus 8 is usually well tolerated with minimal pain. Our Aesthetic Doctors will apply a topical anaesthetic cream to your skin to numb it. The handpiece (with the golf needles) is applied to the skin. You might feel the needle pricks, but it is generally well tolerated. For patients with low tolerance, other pain management options may be used (ask your doctor).
What are the results that I can expect following a Morpheus 8 treatment?
Following a Morpheus 8 procedure, your skin will be rejuvenated. Over the course of a few weeks, collagen will build-up in your skin improving your skin firmness and elasticity. Your skin structure will improve obtaining a tightening effect as well as an improved aspect of your skin.
Who are the suitable candidates for Morpheus 8?
Morpheus 8 is a skin treatment that is suitable for patients of all ages and skin types. Typically, patients over the age of 30 with visible signs of aging are the best candidates. In addition, this is also a very effective treatment for patients who suffer from scars including acne scars.
How many treatments of Morpheus 8 do you need?
We recommend a treatment protocol with 3 sessions with an interval of 4 weeks between the treatments. Results will be visible 8 weeks following the first treatment session.
At Aesthetic Medicine, we will create a personalized Morpheus 8 treatment plan for you.